Edge Computing:
The driving force behind smart cities
Smart City Factory | 07/20/2023
In der Welt der Smart Cities spielt Edge Computing eine entscheidende Rolle. Diese innovative Technologie ermöglicht es, Datenverarbeitung und Analyse in Echtzeit direkt am Rand (engl. "edge") des Netzwerks durchzuführen. Dadurch entstehen zahlreiche Vorteile und neue Möglichkeiten für die Entwicklung intelligenter Städte. 
The term "edge computing" refers to the approach of enabling data processing and analysis as close as possible to the source of the data instead of sending it to the central cloud infrastructure. This involves the use of decentralized computing resources such as edge servers or IoT devices. This enables faster processing and analysis of large amounts of data without compromising latency or network bandwidth.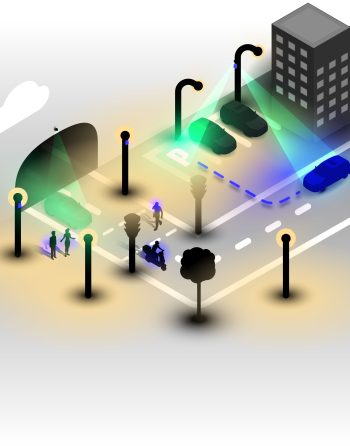 Thanks to edge computing, sensor data can be analyzed in real time. This enables the rapid detection of patterns, trends and anomalies in the collected data. In smart cities, for example, traffic flows and parking space management can be optimized, energy consumption reduced and lighting controlled more efficiently.
Es ermöglicht eine schnellere Verarbeitung von Sicherheitsdaten und die Erkennung von Bedrohungen in Echtzeit. Überwachungskameras, intelligente Sensoren und Alarmsysteme können miteinander vernetzt werden, um verdächtige Aktivitäten sofort zu erkennen und angemessen zu reagieren. Dadurch wird die Cyber Security in Smart Cities deutlich erhöht.
Durch die lokale Verarbeitung von Daten am Rand des Netzwerks wird die Bandbreitenbelastung der zentralen Cloud-Infrastruktur reduziert. Dies führt zu einer optimierten Netzwerkperformance und verringert gleichzeitig die Kosten für den Datenverkehr. Smart Cities können somit ein zuverlässiges und effizientes Netzwerk für ihre vielfältigen IoT-Anwendungen gewährleisten.
Edge computing makes it possible to process and store personal data directly on site instead of sending it to a central cloud platform. This reduces the risk of data breaches and unauthorized access. Smart cities can thus strengthen citizens' trust in their data-driven infrastructure.
Edge Computing ist zweifellos ein wichtiger Bestandteil der smarten Städte von morgen. Durch die Echtzeit-Datenverarbeitung am Rand des Netzwerks können Smart Cities effizienter, sicherer und nachhaltiger gestaltet werden. Es ermöglicht verschiedensten Anwendungen und Systeme, von der Verkehrssteuerung über das Energiemanagement bis hin zur Überwachung der öffentlichen Sicherheit, zu einer einzigen Infrastruktur für die Entwicklung von Smart Cities zu verbinden. Daher ist es unverzichtbar, dass Städte und Technologieunternehmen in Edge Computing investieren, um das volle Potenzial von Smart Cities auszuschöpfen und eine bessere Lebensqualität für die Bürger zu schaffen.